"Man cannot live without love. He remains for himself an incomprehensible being, his life is deprived of meaning if he does not receive the revelation of love, if he does not encounter love, if he does not experience it. and if he does not make it his own, if he does not participate strongly in it. (HR 10)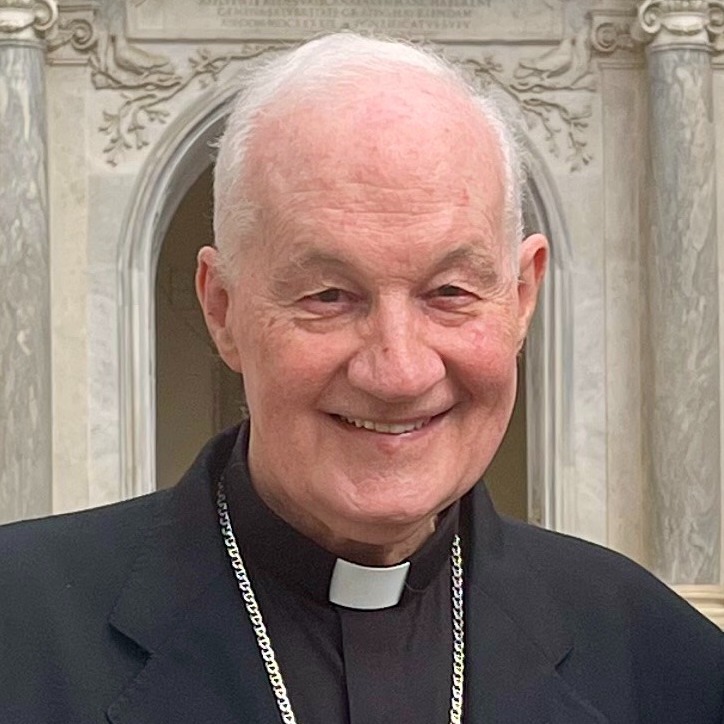 Dear young, boy or girl,
You cannot dwell on these Christian thoughts without asking yourself about your personal aspirations and about the vocation you seek to discern in order to respond to God's call on you. How do you envision your future? Is God for you only a beautiful idea, a Truth, or really a Partner with whom you seek to find happiness and to give happiness to others? Honestly ask yourself if Jesus is Someone you have really met? Has it changed your life? Maybe he beckoned you in some way internally or through the circumstances of your life? Does Christ's love for the poor inspire you with thoughts and acts of kindness and charity? Would you like to commit yourself seriously and professionally to improve their lot? The Word of God has undoubtedly challenged you one day, the preaching of a priest, the example of a nun, or the beauty of a united family. How do you let these testimonies guide you in your own choices?
The beauty of Christianity lies in the act of surrender to Love that characterizes the lives of saints down through the ages. Thérèse of the Child Jesus proclaimed it in our time by her little way of holiness within everyone's reach. It thus restores the great gesture of the founders and foundresses of religious orders, Benedict, Dominic, Francis and Clare, Ignatius, Teresa of Avila, and so many others who opened paths of holiness and created forms of life in following Jesus. The Second Vatican Ecumenical Council taught that the call to holiness is addressed to all. This call resounds vividly in the hearts of young people at the time of the great life choices of a believer. How can we take this call seriously and cultivate audacity and creativity? Saints are the most creative and surprising beings because they belong to Love. They are not sad or boring because frequent prayer keeps them full of the breath of the Spirit of Love. How much time do you dedicate to prayer, what advice do you seek from a priest or a wise person to discern the movements of your heart in the face of God's will? Peter do you love me? This is the question of the risen Christ that defines the ministry of the first apostle. This same question applies to all vocations. Everyone's inevitable response defines whether someone succeeds or fails in life.
READ THE ENTIRE CARDINAL'S MESSAGE →
Vocation, a call to love
We are living through a rather confusing change of era where it is not easy even for us Christians to embody our call to universal brotherhood. Pandemic, wars, climate change, fake news, everything seems to have become precarious and uncertain as to what the future holds. We feel fragile and threatened in this changing context, but because of the goodness of our Creator and Father, we go forward in faith, seeking peace and brotherhood despite everything. Faith assures us that our life and our destiny are in the hands of God who is Love. Let us remember what Saint John Paul II wrote at the very beginning of his pontificate: "Man cannot live without love. He remains for himself an incomprehensible being, his life is deprived of meaning if he does not receive the revelation of love, if he does not encounter love, if he does not experience it. and if he does not make it his own, if he does not strongly participate in it" (RH 10). This longing for love dwells especially in the hearts of young people who ask only to have a true experience of love. How can we get there if not by discovering Christ and the self-sacrifice he has shown us as the ultimate way to happiness? "Christ the Redeemer fully reveals man to himself" (Ib) and man, "the only creature on earth which God willed for itself, can be fully found only by the disinterested giving of itself . (GS 24). Jesus traced during his earthly life a path of love for all which led him to the extreme of his passion and his death on the cross. Thank God, this great Drama did not end there. For the Eternal Father recognized and exalted the love of his incarnate Son for us by raising him from the dead by the power of the Holy Spirit. Thus, Christ has obtained for us, by his death and resurrection, eternal salvation and the happiness of loving from our present life. We have become partakers of his love which overcomes sin and death through baptism which made us children of God. As sons and daughters of God we are called to live united to Him and to bring the Good News of the merciful love of the Father to all humans. Our vocation is to love and our mission consists in making love known where the Father calls us to follow his Son on the path of his crucified and glorified love. Thus our baptism lived in the communion of the Church is a sign for the world that Trinitarian love is widespread and open to all. This hidden treasure within us cannot be kept secret because we cannot be fully happy with God without involving our brothers and sisters, especially the poorest and most suffering of our earth. How can we help them if not by revealing to them that Christ is the only Saviour, that He gives His grace to all mankind? That He rescues the poorest through our solidarity with them? May He draw us together poor in heart and in all misery to an ever greater Love to glorify God through our universal brotherhood! Dear young people, we are companions and companions on the road to all those who seek happiness. An inner light guides us towards encounters and friendships that bring us the surprises of God, as Pope Francis says. Let us be surprised and walk confidently with our brothers and sisters in humanity, whoever they are, to build with them the fraternity that the Spirit of Jesus entrusts to us as a mission. The service we must render to suffering humanity today cannot be limited to a few acts of charity or a few occasional gestures of volunteerism. It must express itself through our whole being, in the manner of Jesus whose Love possessed all life. This means that our vocation as baptized persons is a commitment to love which is destined to manifest itself in various ways, according to the specific call that each and everyone receives from the Holy Spirit through an interior attraction and through the circumstances of life. Marriage, consecrated life, priesthood, are the main arteries of this communication of love destined to illuminate all of humanity. In the beginning, God created humans, male and female, in his image and likeness, to be one and fruitful in love. This original vocation received from the Creator was confirmed and embellished by Christ who made the married couple the sacrament of his love as Spouse for the Church, his bride. So that a Christian family well inserted in its ecclesial and social environment bears witness that God is Love, a Trinitarian Love which is reflected and given in and through the multiple bonds and relationships which are woven between the members of the same family. and the society where they are on mission. Revelation tells us that in the fulness of time, God sent his Son into the world to lead mankind to their ultimate destiny of eternal happiness in fellowship with the divine Persons. To this end, Jesus chose and called some of his disciples "to be with him and to send them forth to preach with power to cast out demons" (Mk 3:14-15). These intimate friends are missionaries who belong to him totally by a special consecration which makes them ministers of his love and his grace. Peter is the prototype of this as head of the group of Apostles and he keeps alive in the Church, with all his successors and collaborators, the proclamation of the Word of God and the Eucharistic Presence of Jesus who remains with us every day until at the end of the world. This vocation is demanding, it goes beyond human strength, but it rests on a grace that constantly sustains those who are called to render this service in the footsteps of Jesus. The call to Love is not limited to married people and ministers of the Gospel. It concerns any person, young or less young, single or associated in a thousand ways with solidarity initiatives or charitable works. There is, however, a call to Love which has the value of a special sign for the community. It is the consecrated life, feminine or masculine, contemplative or active, apostolic or pastoral. Whatever the particular forms of consecration, it is always a call to love which invites us to bear witness to divine Love by espousing the way of life of Jesus in virginity, poverty and obedience. . This form of life characterized by religious vows or similar promises embodies the Gospel in a way that reminds all of the gratuity of God's love and the fraternal communion to which all humanity is invited. Finally, the call to Love excludes no one, forgets no one and wants to lead everyone to the happiness of the universal communion of brothers and sisters in humanity. The Love of the Three Divine Persons who presides over the creation and redemption of the world brings the universe to a definitive transfiguration beyond all imagination. This is our hope based on the resurrection of Christ and his promise of eternal life. Through Him, with Him and in Him, as we pray at Mass, we are led to that fullness of communion of which the present life is a preparation and a foretaste. The Holy Spirit promotes and animates the communion of vocations in the Church, He harmonizes their complementarity and their reciprocity, because the communion of vocations is His work which illustrates in some way the communion of the divine Persons. This ecclesial communion is a prophecy of eternal life, the luminous dawn personified in Mary who announces the coming of the Day of God in the splendor of his Glory. Dear friends, the call to Love in all its forms is not reserved for an elite, it concerns all members of the people of God on the move; it is a call to fraternal and missionary communion, a call to personal and community holiness in this people in prayer and on the way to the coming of the Kingdom.
The Spirit and the Bride say, Come ! Amen, come Lord Jesus! The grace of the Lord Jesus be with all! (Ap. 22, 17, 20-21).
Join now to participate in the Research Center
Consult our latest news and other publications on vocations.
12 rue Maurice Ravel F-92210 Saint-Cloud
contact@crav-vocation.org